KILAUEA VOLCANO UPDATE:
June 25th, 2018
HAWAIIAN LAVA FLOWS ARE BECOMING EXTENSIVE ENOUGH TO CAUSE SUBSTANTIAL GLOBAL WARMING
Volcanologist Shares Insight on the Ongoing Lava Flows & Their Likely Effect on Global Climate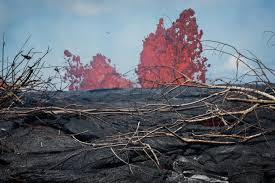 Since May third, basaltic lava flows have been pouring out of the East Rift of Hawaii's Kilauea Volcano, destroying more than 500 homes and covering more than 6,000 acres of land.
For a month and a half, lava has flowed at a rate covering more than 6 square miles per month.
"If the Hawaiian eruptions continue for months, which is quite possible, they are becoming large enough to cause significant global warming,"explains volcanologist Dr. Peter L Ward, who worked 27 years at the U.S. Geological Survey (USGS) on volcanoes in Hawaii, Iceland, Guatemala, as well as throughout Central America and the western United States. (Photo by Ronit Fahl/Getty Images)
Bardarbunga volcano in Iceland extruded basaltic lava for six months in 2014-2015, covering land at a rate of only 5.5 square miles per month. Chlorine and bromine gases from these lavas depleted the ozone layer, allowing more hot, solar, ultraviolet-B radiation to reach Earth, warming Earth. That is why 2016 was the hottest year on record.
Dr. Ward explains in his book "What Really Causes Global Warming: Greenhouse gases or ozone depletion?" and in numerous scientific papers that are beginning to get traction with other scientists, that greenhouse gases do not absorb enough heat to cause global warming and that basaltic eruptions extruding up to millions of square miles of lava are closely related to major periods of global warming, ocean acidification, and mass extinctions throughout all of Earth history.
DR. PETER WARD IS SHEDDING LIGHT ON HOW EXPLOSIVE VOLCANIC ERUPTIONS CAUSE GLOBAL COOLING AND BASALTIC ERUPTIONS CAUSE GLOBAL WARMING
ABOUT DR. PETER WARD: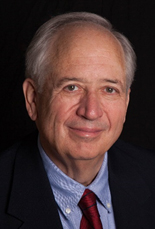 Dr. Ward worked 27 years with the United States Geological Survey as research geophysicist, branch chief, and program manager. He helped develop and manage a major national research program, chaired a committee at the White House, testified before Congress, worked on a committee for Vice President Gore, published more than 50 scientific papers, and won two national awards for explaining science to the general public. He retired in 1998, working intensely for the past decade trying to resolve several enigmatic observations related to climate change.
Ward's analysis and theory are explained in detail on his website and in his new book:
"What Really Causes Global Warming? Greenhouse Gases or Ozone Depletion?"
MEDIA INQUIRIES, CONTACT:
Erin Klein
Erin.climatepr@gmail.com
866-949-6868
Previous Post: VOLCANO NEWS: