NEWS STORY: VOLCANOLOGIST COMMENTS ON KILAUEA VOLCANO
May 22nd, 2018
WHEN RISK BECOMES REALITY ON THE BIG ISLAND 
Scientist Shares Insight on Kilauea's Eruption & Overall Climate Risks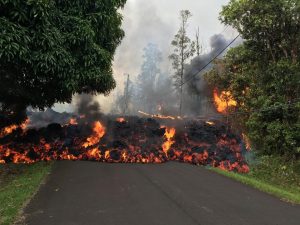 If you haven't seen the latest weather phenomenon that is the eruption of Hawaii's Kilauea volcano, you must be sleeping under a rock. (No pun intended).
At 5 pm on Thursday, May 3, fissures opened in the ground slicing through Leilani Estates on the East Rift Zone of Kilauea volcano in Hawaii. Lava fountained as high as 150 feet. Within 5 days, 15 fissures opened, lava covered 116 acres, 1700 people were evacuated, and 37 structures were destroyed
Poisonous sulfur dioxide gas is causing severe respiratory problems throughout the region. The last eruption of this type in 1955 lasted for three months. USGS volcanologists warn that a life-threatening explosive eruption unlike anything seen since 1924 could occur by mid-May.
INTERVIEW VOLCANOLOGIST DR. PETER L. WARD                                                                      (Photo by Handout / USGS/Anadolu Agency/Getty Images)
"This is the latest phase of an eruption that has been ongoing since 1983," explains Dr. Peter Langdon Ward,"the longest-lived historical eruption in Hawaii. Risk remains high."
Ward should know. He climbed his first active volcano at age 19 and first studied Kilauea volcano at age 23. Now retired after 27 years working as a volcanologist for the US Geological Survey, Ward has become the global expert on how major basaltic lava flows caused periods of major global warming, ocean acidification, and mass extinctions throughout Earth history.
IN AN INTERVIEW/ARTICLE, DR. WARD CAN DISCUSS: 
1. What is happening and what is likely to happen at Kilauea volcano in Hawaii?
2. How does this basaltic eruption compare to basaltic eruptions well-documented to cause global warming?
DR. PETER WARD IS SHEDDING LIGHT ON HOW EXTREME VOLCANIC ERUPTIONS ARE CHANGING GLOBAL CLIMATE. 
ABOUT DR. PETER WARD: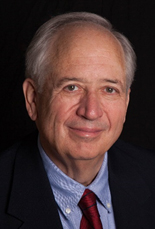 Dr. Ward worked 27 years with the United States Geological Survey as research geophysicist, branch chief, and program manager. He helped develop and manage a major national research program, chaired a committee at the White House, testified before Congress, worked on a committee for Vice President Gore, published more than 50 scientific papers, and won two national awards for explaining science to the general public. He retired in 1998, working intensely for the past decade trying to resolve several enigmatic observations related to climate change.
Ward's analysis and theory are explained in detail on his website and in his new book:
"What Really Causes Global Warming? Greenhouse Gases or Ozone Depletion?"
MEDIA INQUIRIES, CONTACT:
Erin Klein
Erin.climatepr@gmail.com
866-949-6868
Previous Post: If you wonder logically, you are doing science