NEWS STORY:
August 20th, 2020
ONCE UPON A TIME ALL HUMANS HAD DARK SKIN 
Climate Scientist Explains Global Variables to Evolving Skin Color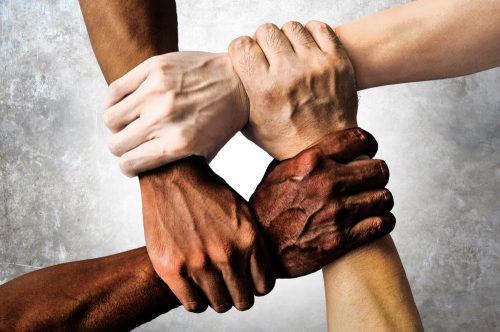 Since the mid-18th century, skin color has been the single most important physical trait used to define human groups, including variously named varieties, races, subspecies, and species.
Humans are a colorful species, yet all modern humans share a common ancestor who lived around 200,000 years ago in Africa. Once upon a time, all humans had dark skin. Variations in human skin color we know today are adaptive traits that correlate closely with geography and the sun's ultraviolet (UV) radiation. 
"For thousands of years, human skin was the sole interface between our bodies and the environment," says Dr. Peter L. Ward, 27-year veteran of the U. S. Geological Survey.
Human skin evolved to absorb just enough ultraviolet-B radiation long before clothes were available. The dosage of ultraviolet-B radiation reaching human skin is greatest in the tropics, least around the poles, and varies with climate change.
Around 1.2 million years ago, in response to climate change killing trees, hominins moved out of tropical rain forests into sunny savannas where they lost body hair, evolved more efficient perspiration, and evolved short, curly, Afro-textured hair to protect the thermosensitive brain from bright sunshine. The loss of body hair led to heritable increases in melanin, a pigment that blackens the skin and darkens the eyes of people living in intense sunlight in equatorial regions.
Our species, Homo sapiens, evolved in Africa and were originally dark-skinned. As humans migrated out of equatorial Africa to higher latitudes, where sunshine is less intense, they evolved over hundreds of generations lower levels of melanin, leading to lighter skin and lighter eye color so that they could absorb adequate ultraviolet-B radiation to have healthy levels of vitamin D. Humans evolved straighter hair that provided increased warmth. Eskimos in the Arctic kept dark skin perhaps because of nearly 24-hour sunlight half the year and because they absorb large amounts of vitamin D from their diet primarily of fish, seals, and other animals.
"Thus, the existence, health, and even skin color of humans living on Earth is determined by having just the right Goldilocks balance between how much solar ultraviolet-B radiation is absorbed by the ozone layer versus how much reaches Earth's surface," says Dr. Ward.
Dr. Ward is a respected senior geophysicist who led a group of 140 scientists, helped develop a major national research program, testified twice before Congress, and chaired a committee at the White House. He has worked full time in retirement since 2006, at his own expense, carefully re-examining the physics of global warming.
IN AN INTERVIEW OR ARTICLE, DR. WARD CAN DISCUSS:
The History of Human Skin Color
Global Variables to Evolving Skin Color
The Impact of Ultraviolet-B Radiation, the Ozone Layer & Earth
Previous Post: NEWS STORY: